LYA300P Flexo Gravure Printing Machine Description:
LYA300P flexo gravure printing machine is suitable for multi-color continuous printing of rolled in barrel materials with excellent printing performance, such as cellophane, BOPP, PET, PVC, PE, nylon, aluminum foil and paper. It is widely used for various high-grade printing products.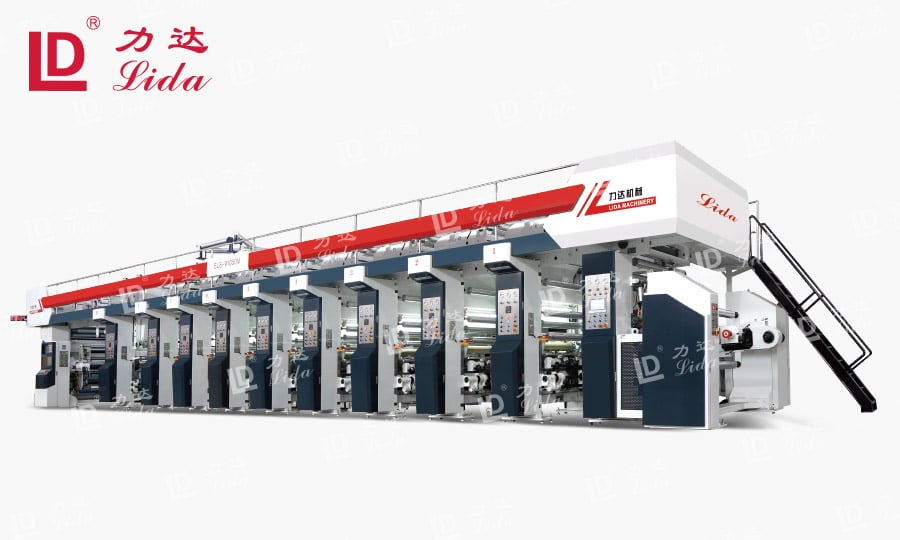 1. The LYA300P flexo gravure printing machine is an array and combination type, which is controlled by PLC. The parameters are set and the tension is displayed by the human-machine interface.
2. The four units of unwinding, feeding, discharging and winding all adopt closed-loop tension control.
3. The computer colouring system (longitudinal) of each unit is controlled by an independent microcomputer processor.
4. The imprinting roll adopts the swing arm type and the guide roll to work together, and the double cylinders press down.
5. The scraper mechanism is Japanese Fuji type, with three-way adjustment, pneumatic pressurization, and the pressure can be adjusted at will.
6. Double station turnover mechanism for winding and unwinding, inflatable loading and unloading shaft, manual material receiving and changing without stopping.
7. Closed oven, energy saving and quick drying, automatic constant temperature control system, internal circulation drying oven, waste gas emission with secondary return air heating device.
8. The outlet of the drying oven is equipped with a cold air box to timely dissipate heat from the substrate, reduce the stretching of the substrate, and improve the printing speed.
9. Shaftless pneumatic cone top mounted version, saving time and convenience for version change.
10. High precision gear transmission box adopts patented technology.
11. Fully automatic computer color registration device, with optional static detection screen.
LYA300P Flexo Gravure Printing Machine Detail:
Gravure Printing Machine Technical Parameters:
| | |
| --- | --- |
| Applicable material | Plastic film,Paper |
| Max.Mechanical speed4 | 300m/min |
| Web material width | 850,1050,1250,1450,1650mm |
| Registration precision | ≤±0.10mm |
| Max.Unwind & rewind Dia. | Ф800,Ф1000mm |
| Printing cylinder Dia. | Ф120mm-Ф300mm |
| Dry method | Electricity,Steam,Thermal oil or Gas |
Gravure Printing Machine Application:
About Lida Printing & Packaging Machinery
Lida Printing & Packaging Machinery is specialized in R&D and production of printing equipment manufacturers and suppliers. The series include: rotogravure printing machine, dry lamination machine, high-speed coating machine, solvent-less lamination machine, inspection rewinder machine etc. All procedures from choosing suppliers, inspection of part processing, supervision of assembly, install & debug of complete set of machine have formed a complete system and flow so that the quality of our products are under control.