Solventless Laminator Description:
LWF 450 series solventless laminator is a product researched and developed by Lida Machinery combined with the gradually matured solvent-less laminating technology.
Solventless lamination machine based on the characteristics of the solvent-free laminating process itself, especially the problems such as low initial adhesion and difficult to control the amount of glue. In order to solve such key problems, many targeted innovations have been carried out in solventless lamination machine including the mechanical structure, control methods, safety protection and appearance design.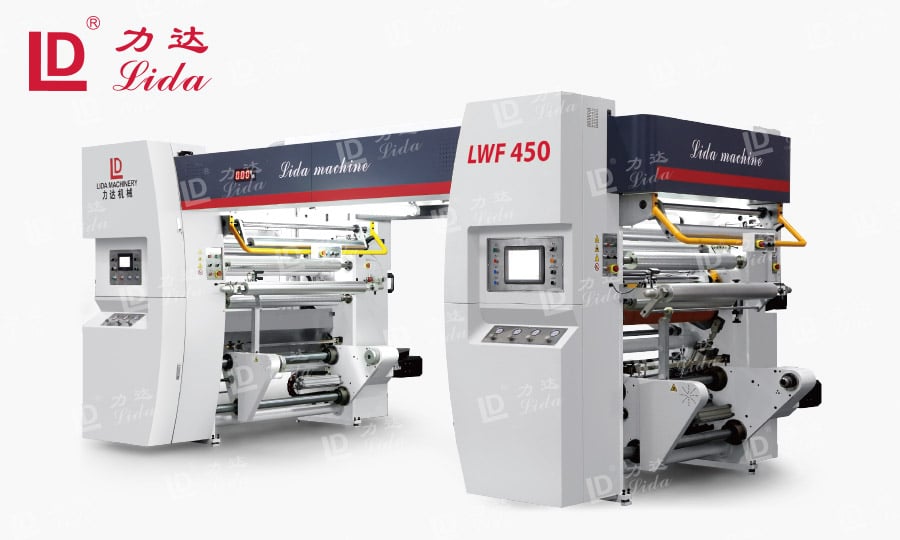 Solventless lamination machine is suitable for high-speed lamination of different types of films, paper and aluminum foils. It has the advantages of high efficiency, good performance and solvent residue-free.
Solventless Lamination Machine Advantages:
UNWIND AND REWIND: Can rewind&unwind forward and backward with shaft-less,and adopted the European imports of dc bus motion controller control, effectively guarantee the stability of the tension control and high precision.
COATING: Solventless lamination machine has high precision 5 roller coating method, and the high precision servo motor drive.
LAMINATION: Equipped with high precision chrome composite roll. Steel roller interior design spiral flow path for precise temperature control of the roller. And the design of imported pneumatic brake, can achieve rapid shutdown and tension. Independent cooling roller, which can effectively control the amount of deformation of the material to ensure the uniformity of rewinding.
TENSION CONTROL: Through the low friction, short stroke and high spinning tension oscillating roller control so as to realize the digital tension control. Solventless lamination machine can be set tension compared with actual tension, so as to automatically adjust the tension.
Solventless Laminator Detail:
Solventless Laminator Technical Parameters:
| | |
| --- | --- |
| Web material | All kinds of flexible package materials |
| Max.Mechanical speed | 450m/min |
| Lamination width | 1300mm |
| Max.Unwind & rewind Dia. | Ф1000mm |
| Coating unit drive system | Controlled by independent servo |
| Tension control | Dancing roller tension auto-control |
Solventless Laminator Application:
About Lida Printing & Packaging Machinery
Lida Printing & Packaging Machinery is specialized in R&D and production of printing equipment manufacturers and suppliers. The series include: rotogravure printing machine, dry lamination machine, high-speed coating machine, solvent-less lamination machine, inspection rewinder machine etc. All procedures from choosing suppliers, inspection of part processing, supervision of assembly, install & debug of complete set of machine have formed a complete system and flow so that the quality of our products are under control.